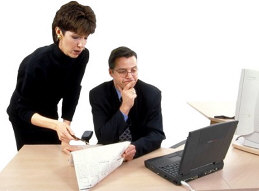 If you've reached a leadership or management position, you must be a problem solver. In fact, your problem solving skills may be one of the reasons you've been promoted. And the higher you rise, the more complex the problems you face.
But have you ever been sidetracked trying to solve problems that are outside the main focus of your job?
Problems like …
Conflicts between direct reports?
Arguments with peers?
A lack of collaboration between partners?
"Hidden agendas" that prevent a project from moving forward?
Intractable problems can swallow hours, sometimes days. And that cuts into the time you have to meet your own goals, manage your own projects, and keep work moving.
That's where I can help. I take the problem off your desk and put it on mine. You can get back to doing the critical elements of your job. And I develop options and action steps to address the problem.
Call me at (610) 642-3040 for a confidential discussion about the problems you're dealing with. And how I can help you solve them.