UPDATED AND REVISED: 101 Quick and Easy Jewelry Selling Techniques for Handcrafted Jewelry Makers and Home-Based Jewelry Sellers Like You!
Have you ever just sat there frustrated trying to think of a new idea that will help you sell more of your handmade jewelry? Hoping if you had just one really good idea, you could sell a few more items? Or get a few new customers? Or have a better show or home party?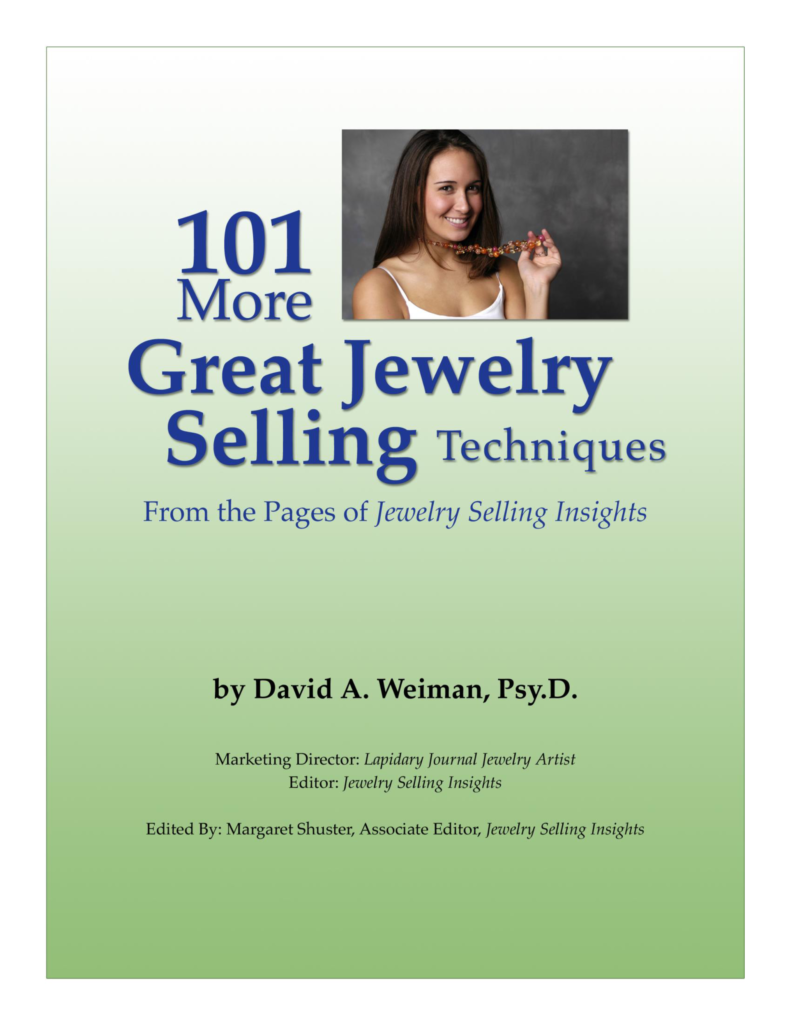 ——————————————————————————————————-
How much more money you will make with not just one, but one hundred and one new ideas?!
That's what you get in 101 More Great Jewelry Selling Techniques, newly revised!
Organized by subject, you quickly find the sales-boosting tips you want:
Selling on the Web
Advertising and Promotion
Customer Service
Selling Face to Face
Plus: This eBook is packed with "clickable" resources to help you sell more.
——————————————————————————————————-
Check out these reviews from the original edition:
Jewelry makers like you learn more with my information products:
"I love quick-and-easy tips that don't take a lot of time, money, or planning to put into action. I'm much more likely to accomplish things that are simplified. That's why I highly recommend 101 More Great Jewelry Selling Techniques. Before you know it, you'll find yourself on the road to more customers and greater profits from your jewelry business."
Rena Klingenberg
"This man knows how to sell jewelry! In his eBook, 101 More Great Jewelry Selling Techniques you'll learn tips and techniques that you can start using this very minute to start selling more jewelry. If you are looking for more ways to increase your business in today's tough economy you should look into investing in this ebook of selling tips."
Barbe Saint John
"David while printing your book 101 More Great Jewelry Selling Techniques I was reading some of it and I already do one of the tips [giving sample jewelry and cards to friends]. I find it to be really helpful and the friends I give the jewelry to love the idea. I have made many new friends doing this tip. I have given the teller at my bank and my insurance agent jewelry and have received calls from others to purchase those items. So this concept really works! Keep up the good work!"
Carol J. Hamilton, Myerstown, PA
"… you are the best I have found and I recommend you all the time. Thanks for doing what you do. You fill a much needed niche in the marketing world."
Wendee Brandenburg , Twin Lake, MI
"Through reading your books I have come to realize I need two different marketing strategies for two different clientele. I have also started a proper business and marketing plan (which I was putting off) as well as a list of tasks that need doing to improve my business. I do two things each day and the list is finally shrinking. Focusing on my business in an organized way is making it happen. So, your books have been invaluable to get me back on track. I feel much more grounded in my business now .."
Carol Hughes, Melbourne, Australia
"No matter what compels jewelers to go into business, when they need to know how to sell their jewelry … His successful strategies and resources will keep the wheel of creating-and-selling turning effortlessly."
Nina Graci
"Powerful stuff and an approach which everyone – no matter how developed the business already is – can make use of! Thanks!!"
Claudia Atkins
Okay, Dave, I'm convinced you know your stuff … so how much is it?
We sold a ton of the first edition for $27. But right now, the revised second edition is just $17 — YOU SAVE 37%!
——————————————————————————————————-

100% No-Questions-Asked Better than Risk-Free Money-Back Guarantee:
If you are not 100% satisfied, just let me know within 1 year for a full refund. And keep the e-book free, with my compliments. That way, you risk nothing.
——————————————————————————————————-
Have you ever heard of someone guaranteeing a book for a year? I do because I'm confident you will sell more jewelry.
Let's recap:
You get 101 jewelry selling tips … quick and easy-to-use techniques for selling more of your beautiful handcrafted artisan jewelry.
Your satisfaction is GUARANTEED and covered for ONE FULL YEAR!
You SAVE $10 (that's 37%!) OFF the original price when you order now!
——————————————————————————————————-
Click the "Buy Now" button below and get this package for just $17: