Leadership Update is a free monthly newsletter by David A. Weiman, Psy. D. and www.leadershipfirst.com. In it, you'll find strategies for helping you realize your full professional potential. Please feel free to forward unedited copies of this newsletter.
Contents
Quotable: The Pundits Speak
Leadership: The 5 Great Rules of Management
Communication: Say it Face to Face
Readers' Forum: Your Observations
Subscription Information
Quotable: The Pundits Speak
"I don't want to achieve immortality through my work. I want to achieve it through not dying." – Woody Allen
"Most of the important things in the world have been accomplished by people who have kept on trying when there seemed to be no hope at all." – Dale Carnegie
THE 5 GREAT RULES OF MANAGEMENT
There are hundreds and hundreds of books available  on effective management. And the number of books being sold seems to be more of a reflection on the size of the market for management help than the number of key principles of effective management.
So who am I to tell you what the 5 great rules are? Hey, it's my newsletter. These rules are based on my experiences consulting with organizations of many different types and sizes:
1. Put important things in writing.
Throughout our lives, important things are memorialized in writing – from report cards and diplomas to marriage certificates and deeds. Written documents form the basis for agreement, and they allow for information to be shared in a reliable way. Put your company description in writing so that it can be handed out to prospective employees at the interview. Job descriptions should always be in writing and up to date. Your company policies and procedures manual should be in writing. And if there is a specific set of goals and values that drive your firm, put them in writing as well.
2. Confirm mutual expectations.
One of the most common reasons for disputes at all levels of an organization is a lack of agreement on expectations about everything from who does what to how things will get done. For example, a lack of agreement on a corporation's values can lead to different expectations on how employees should be managed. In terms of managing others, division and department heads often assume that the staff understands what the managers expect of them. To avoid jumping to incorrect conclusions, interview each staff member individually. Make sure they know what is expected of them, what will happen if they meet those expectations, and what will happen if they don't.
3. Identify the source of the problem before you start solving it.
This sounds easier than it is. We often assume that the first information we get about a problem is correct. For example, a manager in a bakery wanted to fire one of the bakers because he wasn't turning out enough pies. The assumption was that the baker wasn't skilled enough to do the job. After just a few questions, we learned that there were equipment and management problems that were affecting productivity, and not one worker's skills. Make sure you've looked beyond the surface to identify the true source of the problems that come to your attention. Typical areas to consider are systems/processes, skills, shared values, and communication styles.
4. Seek first to understand, then to be understood.
This is one of Stephen Covey's 7 Habits of Highly Effective People, although he didn't create the concept. Listening to someone you manage not only provides you with data that's essential for making good decisions, but people are much more willing to listen to you as a leader if they feel that you've heard what they have to say first. Defensive managers often fail to do this. If you are in charge of a defensive manager, they may need professional development training to help them improve in this area.
5. Never criticize.
Most of the people you supervise know when they've made a mistake. Criticism makes a bad situation worse. This doesn't mean that you shouldn't give corrective feedback. In fact, I encourage clients to give positive and as well as corrective feedback on a regular basis so that everyone they supervise becomes accustomed to it. To make it even easier to provide this feedback, learn from your direct reports in advance how they want you to tell them what they're doing well, and what needs to be improved. Once you've agreed on a method, they will be well prepared to receive your comments.
These basic principles can help strengthen your company, whether your firm is a small entrepreneurship or a large corporation. This isn't an exhaustive list. But following these simple rules can help avoid the kinds of problems that result in the need for a consultant, a corporate attorney, or both.
Reader's Forum: Your Observations
Have a comment about something you read in this month's newsletter? Mail it to: comments@leadershipfirst.com
ABOUT DR. WEIMAN
David A. Weiman, Psy. D. is a psychologist who specializes in executive development. For information or a consultation, please call (610) 642-3040.
333 East Lancaster Avenue, Suite 202
Wynnewood, PA 19096-1929
(610) 642-3040; Fax (610) 642-3041
COMMUNICATION: SAY IT FACE TO FACE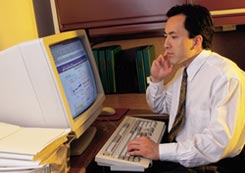 There's no turning back: E-mail is here to stay. In some companies, people who work in adjacent offices send e-mail instead of getting up and walking next door or even picking up the phone. While e-mail is a very convenient method of communicating, business leaders seem to agree that the most powerful way to get your message across is face to face.
The reasons why face-to-face communication is so effective seem obvious … it shows your employees that they're important to you … that you value a free exchange of ideas … that you're listening to what they're saying.
But there's an even more basic reason why talking face to face might just be the most effective way to communicate anything in business, and it has to do with your brain. The function of understanding words is controlled by one part of the brain, while another part controls the function of appreciating the emotional quality of language. So, if you want to deliver a message with maximum impact, you have to stimulate both parts, and that's extremely difficult to do through the written word.
Not surprisingly, many clients report that their e-mail messages are often misunderstood by recipients. E-mails intended to be humorous are interpreted as nasty, or subtle criticisms are read as severe rebukes. The absence of the appropriate "tone" leads to miscommunication in writing.
Even in face-to-face communication, according to studies by Birdwhistell, a communications researcher, the actual words you use convey only about 7% of your message. 38% of the communication is conveyed by your tone of voice, and 55% is communicated by your body language.
The implications of basic brain functioning and the communications studies are that if you have an important or emotional message to convey, saying it face to face is the best way to do it.
Examples of messages you should try to deliver face to face:
Setting forth major company or group goals
Gaining support for a specific project
Asking employees to give extra effort for special projects
Announcing major organizational changes
Correcting mistakes
Examples of messages appropriate for e-mail:
Exchanging facts
Providing updates on the status of a project
Requesting/giving approval for specific activities
Announcing personnel changes
Delivering general company-wide news
When it's not practical or possible to meet with employees face to face, call them to discuss important items, reserving voicemail or e-mail as a last resort.
For more information on improving communication throughout your organization, call me at 610-642-3040. I'll arrange for us to meet face to face.
SUBSCRIPTION INFORMATION
To subscribe to this newsletter (if you're not already a subscriber), send e-mail to news@leadershipfirst.com with a message SUBJECT of: Subscribe
To unsubscribe to this newsletter, send e-mail to news@leadershipfirst.com with a message SUBJECT of: Remove.