As the economy recovers, companies are experiencing huge numbers of applicants for open positions.
One reason for the avalanche is the high national unemployment rate. Also, job-seekers have been encouraged to apply for positions that may be tangential to their core experience.
So, if you're hiring, you'll get a lot of resumes, but it will be challenging to find those who are truly qualified for the job.
Here are 5 things you can do to handle the "Applicant Avalanche":
Create a tight job description before you market the job. List the core responsibilities and requirements. Be as specific as possible. For example, "Three years of experience managing a consumer products sales team required" is better than "management experience required." If you might consider someone without those requirements, state that in your recruitment materials, but be prepared to receive a lot of resumes that aren't a great match.
Be careful where you post. In fact, you may circulate the job posting throughout your own company and encourage employees to recruit from their professional and social circles rather than casting a wider net through Monster.com or other employment websites. All open positions should be posted on your own company's website. Create a "Jobs" page if you don't have one already. If you do use employment websites, pick those that match your field closely, as opposed to general job sites.
Organize your resume review process in advance. You need to be organized if you want to be efficient. Set aside time every day to review resumes, as opposed to reviewing them as they come in. Use a checklist from item 1 above to make sure that you're comparing each applicant to your core criteria. Create three folders — YES, NO, and MAYBE. That will help you prioritize whom you want to contact.
Screen before you interview. Your first contact with an applicant should not be an interview, because they can be a tremendous waste of time. Go through resumes carefully to identify problems or concerns (for example: gaps, jumping from job to job, leaving critical information out, or including too much information) and use e-mail and quick phone screenings as a way of narrowing the field of candidates.
Extend your search. Companies looking to hire often make the mistake of assuming the best candidate is in the first pool of applicants. Psychologically, they want to get the search over with and fill the position. Encourage those with concerns about an applicant to speak up. This can lead to "groupthink," where those involved in the hiriing process all begin thinking the same way in the rush to fill a position. If you don't have a great match right away, keep searching. Your patience may result in a better candidate in the second or third wave of applicants.
The substantial increase in job applicants so many companies have experienced in the past year is a great benefit to companies and job seekers. Careful recruitment, an organized process, and patience will ensure that you get the best new employees for your open positions. Weiman Consulting helps companies like yours handle the pre-hire screening process using valid and reliable tools that help identify who's a good fit, and who isn't. Contact us for more information on picking the right person for your next opening.
Need an E-Mail Marketing Solution?
Use iContact, and I highly recommend the service. The pricing is reasonable, the templates are excellent, and their customer service team is highly responsive.
Click here for more information: iContact.
New DVD on the Psychology of Investing and Business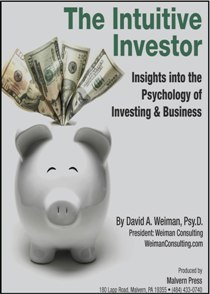 As much as people like to think that their investing decisions are based on cold logic, they aren't.
Many subtle factors influence investing and business decisions, including childhood messages we received about money and risk, whether we have a short-term or long-term "time horizon" for the future, past experiences with failed investments, how optimistic we are and more.
The Intuitive Investor (2009, Malvern Press) is a DVD featuring a series of interviews I did on Money Matters (Comcast TV) that covers these topics and more!
It's available now on Amazon.com: Click here for more information.
My leadership blog: http://www.leadershipupdate.blogspot.com/
Link to me on LinkedIn: http://www.linkedin.com/in/davidweiman