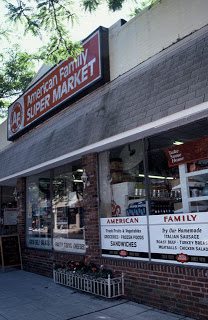 If you want to learn about outstanding customer service from some guys who could write a book about it, visit The American Family Super Market in Narberth, PA.
I've been going there for years. I thought what I was getting was excellent meats, cheeses, fish, chicken, and homemade chicken sausage that's so good I swear I hear arias from La Boheme when I open the freezer door there.
What I really get, though, isn't on the shelves: It's a lesson in how to treat your customers the right way. And no one does it better than Angelo, Paul and the rest of the crew there.
They are unassuming.
They are professional.
Each has the heart of a servant, and they treat you like there is nothing more important at that moment than helping you find exactly what you're looking for.
Even when you don't know what that is.
You like the roasted turkey? Angelo asks if you have ever tried the honey turkey and slices a piece so you can taste the difference between the two.
You look unsure as you stand at the meat section? Someone appears by your side and makes a great suggestion.
Watching your cholesterol? Paul will explain how to cook that package of chicken you're holding so that you'll live a long, long time.
I have trouble remembering what I had for breakfast yesterday. Paul remembers that on Tuesdays I teach in Allentown and tells me to have a safe ride.
This isn't something that happens every once in a while at the American Family Market. It's what happens every minute of the day there.
There are lots of places where you can buy your groceries. At a time when chain supermarkets seem to be racing to the bottom in customer service, Angelo and Paul are at the top in something that's priceless:
Treating customers like family. Just like the name says.
If you're ever in Narberth, stop by the American Family Super Market. And try the chicken sausage.
The American Family Super Market is located at 230 Haverford Avenue, Narberth, PA. (610) 664-1648.