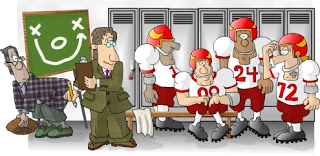 WIP sports talk radio in Philadelphia this morning played what they said was a comment by Andy Reid, head coach of the Philadelphia Eagles, in response to two recent firings of NFL head coaches.
"It's a rough business," he replied.
Really?
Being a US soldier in Afghanistan is a rough business.
Being a police officer is a rough business.
Being a fire fighter is a rough business.
Coaching a team playing football?
I relate sports news to business because the events in sports (winning, whining, losing, respect for rules, disrespect for rules, hirings, firings) are often caricatures of business life.
I know Andy Reid was speaking off the cuff. I know he's not equating being a head football coach with being a soldier fighting for his country and his life in Afghanistan.
It did strike me as odd, though, to refer to coaching athletes playing a game as a "rough business."
The great comedian Dom Irrera did a hilarious routine on an HBO special a few years ago about people saying after Michael Jordan won his first championship ring that he "deserved" it.
Irrera observed how ridiculous it was to say that someone who makes millions of dollars a year playing a game "deserves" a ring, and he mentioned disadvantaged people and groups who deserve something, too.
I appreciate Coach Reid putting the NFL coaching situation in perspective with his comment.
It made me appreciate people who really do have rough jobs.