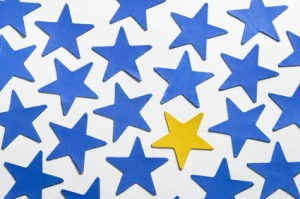 After surveying 280 firms, totaling over 246,000 employees, Fortune Magazine named the top 100 companies to work for in 2012.
What do the top employers have in common? A few things; child care, encouraging environments throughout the employee ranks, and health program opportunities (ranging from on-site gyms, massages, acupuncture, free access to nutritional foods, to smoking cessation programs).
First let's see who ranked in the top ten:
Topping the list at #1 is Google. In 2011 they added over 7,000 new jobs! Employees say Google is a tough place to break into but once someone does, they will likely find it was worth the strenuous recruitment and lengthy interview process. (Tip: Review your own recruitment and interview process to make sure it is well-planned and thorough.)
Google strives for a "family" environment, and employees are encouraged to build a community feeling. They spend time dining (for free) at one of 25 different cafes offering nutritional lunches, working out in the gym, indulging in free massages, or developing teamwork by getting out on the tennis courts (just one of a many sporting options available).
Google emphasizes the health of their employees and even staffs a doctor on-site to allow for employee convenience. The attention to employee health has paid off, not only for the employees who are happier and healthier, but also to the company who boasts one of the lowest healthcare costs compared to other employers.
#2 is Boston Consulting Group whose consultants praise their company for paying 100% of healthcare premiums.
#3 SAS Institute … they have never had one layoff and have the lowest voluntary turnover rate of all the companies surveyed!
#4 is Wegmans who offers a free smoking cessation program in which over 2,000 workers participate.
#5 Employees love working for Edward Jones, a business that is growing despite the tough economy. During the publishing of the article they were actively searching to fill more than 50 positions.
#6 The workforce at NetApp was thrilled when they were offered generous pay for performance bonuses.
#7 Surprise, here's an unexpected bonus! That's why staff at Camden Property Trust spoke so highly of their employer.
#8 Adventurous types cannot get enough of their employer, Recreational Equipment (REI). They are offered free equipment rentals and paid sabbaticals.
#9 is CHG Healthcare Services because, among other things, they listen to their employees. The most recent request they fulfilled was the building of a large on-site gym.
#10 Rounding out the Top Ten is Quicken Loans. Based in downtown Detroit, employees take pride in the positive impact the company has on the city.
The list continues on naming many other excellent companies to work for and the privileges they offer their employees. A few other places most people would love to work at and some fun benefits they offer include:
#11 Zappos: Among other perks are their now-famous "Laughter Yoga" classes.
#15 NuStar Energy: Will lend their corporate jet to an employee who is in crisis.
#46 INTEL: "Welcome to your next 5 jobs", they move new employees through different positions to encourage them to explore new fields.
#52 AutoDesk: Everyday is bring your dog to the office day!
#59 Ernst & Young: Believes in giving back to the community; employees logged over 38,000 volunteer hours in the previous year.
#73 Starbucks: FREE COFFEE!! Oh, and also part time employees (about 95,000) get full health insurance benefits and stock awards.
#79 Mattel: TGIF; offices close at 1pm on Fridays!
As competition for top talent increases, don't just think about what you can do to make your company an awesome place to work … poll the staff, check out what other companies are doing, and create an implementation plan to make the changes.