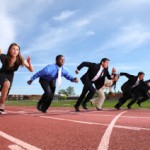 One of my favorite books of all time is The Millionaire Next Door by Thomas J. Stanley and William D. Danko.
I was listening to the audiobook version again the other night.
One of the breakthroughs for me was their discussion of how high-net-worth people are often entrepreneurs who apply lessons from their businesses to their personal lives.
And one of the keys is seeking efficiency in everything.
This is a POWERFUL concept in leadership because time matters so much. And not just in terms of getting things done. But in terms of having time — YOUR time — to be as effective as possible.
Hearing it again reminded me to look, again, at my own workspace and ways of managing my work.  It's a reminder that I should regularly try to eliminate anything that takes too much time, wastes time, or steals it in some way.
Although I have developed what I think are pretty good systems over the years to keep things organized, I came in on a Sunday to go through them again, clearing things out, assessing what's working and changing anything that is not.
That very act — slowing down so I could speed up — required a major decision to NOT do work, but rather focus on tuning the engine I use to do that work.
Take the time to seek efficiency in your own leadership life. Examine:
Filing methods.
Calendering.
Project management processes.
E-mail handling.
Phone call handling.
Processes for attracting and converting clients.
It will take time to do it, so I suggest setting aside non-work hours to make it happen.  I can promise that if you seek efficiency — always looking for ways to do things better, faster and more effectively — the results or your changes will have a permanent pay-back.
If you have some examples of things you do that enhance your efficiency, please post them below.