Photo of office location
333 E. Lancaster Avenue,
Wynnewood, PA 19096-1929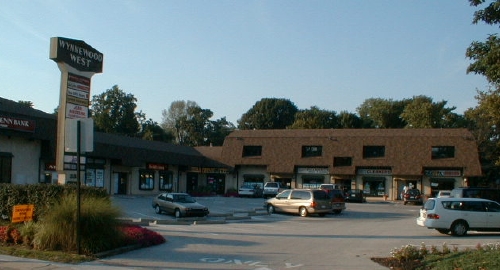 Office Location
The office is located in Suite 202 at the Wynnewood West Center, a two-story building just west of the Whole Foods Market in Wynnewood, PA. It is easily reached from the Schuylkill Expressway (I-76) via EXIT 339 – City Ave./Route 1 South. Stay to the left on the exit ramp, and then turn RIGHT onto City Ave./Route 1 South. Continue on City Ave. approximately 2.7 miles to Lancaster Ave./Route 30 West and turn RIGHT (St. Charles Seminary on right). Go 1.5 miles on Lancaster Ave. to the Wynnewood West Center, the next building after Whole Foods on the right hand side. There is a traffic light at Old West Wynnewood Road just before the parking lot entrance. Look for the tall sign at the sidewalk that says "Wynnewood West" at the top. Turn right into the lot. Free parking is available in the front of the building. The main entrance, marked "Wynnewood West Offices," is between the Tepper Pharmacy and Roger's Cleaners. Take the stairs to the second floor and turn right to Suite 202.
From Main Line and Delaware County
From Springfield take Route 1 North (City Ave.) to Lancaster Ave./Route 30 West and turn LEFT. From the Paoli area, take Route 30 East (becomes Lancaster Ave.). Follow the rest of the directions provided above from Lancaster Ave.
From Philadelphia International Airport
Exit airport tolls and follow signs to I-76 West/Philadelphia. There are several turns but remain en route to I-76 West. Once on 76 West, take EXIT 339, City Ave. (left lane exit). Stay to the left on exit ramp and at traffic light turn RIGHT onto City Ave. (Route 1 South). (Refer to Office Location directions above for further details.)
From Delaware and Southern Pennsylvania
Take I-95 North to I-76 West. Exit at 339 (City Avenue, Route 1 South, left lane exit) OR take Route 1 North (which becomes City Ave.) to Lancaster Ave./Route 30 West and turn RIGHT. (Refer to Office Location directions above for further details.)
From Northern New Jersey and New York
Take the New Jersey Turnpike to EXIT 6 – Pennsylvania Turnpike. Follow the PA Turnpike to EXIT 24 (I-76 East). From tollbooth EXIT 24 continue following 76 East signs to City Ave./Route 1 South. The exit will be on your right. At the bottom of ramp, turn RIGHT at traffic light onto City Ave. (Refer to Office Location directions above for further details.)
From South Jersey
Benjamin Franklin Bridge. Exit towards Center City Philadelphia. At light, stay in second and third lanes from left (I-676W/I-76W). Merge onto I-676 (Vine Street Expressway) West. Stay in left lanes and follow signs to I-76W (Schuylkill Expressway). Continue 5 miles to City Ave., EXIT 339 on left. (Refer to Office Location directions above for further details.)
Walt Whitman Bridge. Once over bridge and through tolls, follow signs to I-76 West, Central Philadelphia (about 2 miles). Then follow the expressway for about 5-7 miles. Take Exit 339, City Ave. on left. (Refer to Office Location directions above for further details.)
Via SEPTA
Wynnewood West is served by the Route 105 bus on Route 30 (refer to Office Location directions above) and the R5 train, Wynnewood Station. From either platform, walk to the Wynnewood Road side of the station. Turn right onto Wynnewood Road and walk one block to Lancaster Ave./Route 30 West and turn RIGHT. (Refer to Office Location directions above for further details.)