[huge_it_share]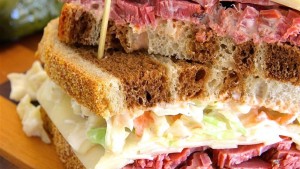 I'm not nosy by nature, but sometimes I can't help overhearing an interesting conversation.
I often hear the best stuff in restaurants.
Think you can't learn a few things while having a corned beef special?  Think again.
Here's one in a series of "confessions of a restaurant eavesdropper."
The other day, I was at a local chain bakery seated next to a man and a woman who were having what sounded like an interesting business conversation.
I learned from the conversation that he was her manager. The more I heard, it sounded less like a conversation and more like a long critique.
"You say, 'Is that okay?' way too much. You know what I mean?" he said, while putting a handful of potato chips into his mouth, chewing noisily.
She nodded.
"So, when you say that, it's sort of like saying that you're not sure. You're not confident about it. You know what I mean?" He gave her a few examples of meetings where he heard her say that.
Oh, boy.
He put another handful of chips into his mouth, which gave her a chance to respond.
She explained the situations he brought up. She told him why — in those meetings — she felt it was important to confirm others were okay with what she was proposing. She had logical reasons why she did it. She was clear and articulate.
As she talked, he interrupted her quite a few times to make a point he couldn't wait for her to hear.
In the 20 minutes or so that I listened to them, she came across as smart, focused and a good communicator.
He came across as someone who did not know how to listen, empathize or give constructive feedback.
Interestingly, the very thing he accused of her doing — repeating a phrase he said diminished her credibility — he also did repeatedly in their conversation although he was blissfully unaware of it: He said, "you know what I mean?" after nearly point he made.
Aside from being guilty of the same thing for which he was trying to criticize her, he also chose a public space in which to give her this critical feedback. Poorly trained managers often think a restaurant is a good place to have a difficult conversation because it's more relaxing and will cushion the message in some way. In this case, the setting was not a good idea, and criticizing her within obvious earshot of others (our tables were close enough that I could have borrowed the ketchup without leaning over) was also a bad choice.
As long as managers keep using restaurants to have difficult conversations, though, I'll keep filing reports from the field.
That's why I'm here. You know what I mean?