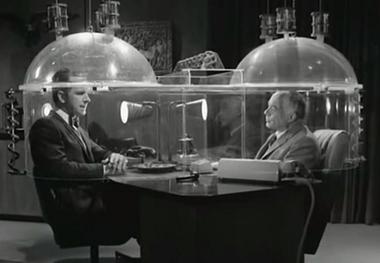 In the 2008 movie "Get Smart," the agent and spy Maxwell Smart, Agent 86, is a bungling but well-meaning spy (who usually gets things done actually), employed by the spy agency "Control."
It's based on a TV sitcom that started in 1965 and ran for a few years on the television.
In the movie, as in the TV show, when there is an important conversation that's about to take place, and it needs to be protected from prying ears, Max asks for the "Cone of Silence" to be used.
And in the movie, as in the show, this device comes down around everybody who is participating in the conversation, but it hilariously never works. People can't hear each other, and it malfunctions in many other ways.
What is effective though is Max's attempt to let people know that this is an important conversation, that part is effective.
And I think in the times that we're in right now, showing other people who want to talk with us that we are paying attention, that it's an important conversation, that they have our full attention and it would be really powerful and important.
I do that by clearing out things that are in the environment that would distract me from talking to somebody and paying attention and listening well. That means clearing off my desk, for example.
If I can't get rid of those distractions and I'm on the phone (but not driving!), I'll close my eyes, so that I can listen more effectively.
I usually wait about 2 seconds after the other person has finished talking before I respond, just to leave a little space there and to show that I've really listened to what they had to say.
Although the "Cone of Silence" hilariously never worked for Maxwell Smart, paying attention to other people and getting in the right mindset to listen well always does.
Question: What techniques do you use that help you focus on conversations and meetings?