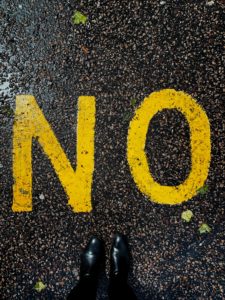 People are often promoted into leadership roles because they have said "yes" to new opportunities and challenges throughout their careers.
If that describes you, it can create the expectation among higher-level supervisors that you will always say "yes."
But one of the realities of a leadership role may be that you cannot say "yes" to every request.
Agreeing to do everything is not only an unrealistic expectation, but it can lead to excessive stress and burnout from trying to always do too much.
In the July-August 2019 issue of Entrepreneur, consultant Nadine Greiner addressed this issue and the importance of saying "no." Here are three of the tips she provided as an alternative to "yes" that can still help move important projects and tasks along.
1. The flat out "No"
It's easier for someone to hear "no" when there is a logical reason tagged onto it, especially if the reason is something you know they care about. For instance you could try this, "I really appreciate you thinking of me for this great opportunity. As much as I would love to say yes, I have learned that I am at my best when I prioritize what is best for the company. Unfortunately I have already committed to X and Y projects, and I really need to ensure I put all of my focus on them so I can ensure they are a success.
2. "Tinker with the Timing
If you think you could fit the project into your schedule at a later date, once your current project is finished, or when you have more time, be sure to give this option. This shows that you do care about the project and you would like to take part, you just can't right now.
3. Accept with Conditions
So you can't take on the entire project, but could you take on some of it? Sometimes a person is chosen to tackle a request due to a certain skill they possess that others may lack. Find out why this person chose you and see if perhaps you could take on that one important piece while someone else or others handle the rest.
Telling someone no may feel like you are acting in a selfish way, but when you learn to say it in the right way, for the right reason, and especially if you show flexibility to tackle some of the project or tackle it at a later date, then your supervisor won't look at you as a naysayer, but as a collaborative business strategist.
Here are some additional thoughts:
– If a role constantly requires you to take on tasks at the last minute or that are out of your typical function, it might be time to sit down with higher level managers and see if the job needs to be redefined.
– If you're being asked all the time to put out fires, it may indicate the strategy for running the business is flawed. If there is an abundance of these fires, consider bringing this up with higher level leaders and offering to help figure out a better way.
– A corporate culture where saying "no" is strongly discouraged means important information about the distribution of labor and how things are getting down may be terribly flawed. Also, this kind of culture may encourage people to hide or bury problems instead of facing them. If that's true of your culture, you may explore other options for applying your talents.
Question: How does your own company culture encourage feedback about when demands are too great? How do you encourage people to say "no" when they need to?